With liver disease on the rise and the promise of more cures made possible through new discovery, we need more research focused on liver disease and more hepatologists and health care professionals trained to provide care for patients suffering from liver disease.
Research and Career Development Awards
Since 2000, AASLD Foundation (initially through AASLD) has provided more than $50 million to advance innovative hepatology research and the people who study and treat liver disease through our Research and Career Development Awards program.
The 2020 application period has closed. Applications for the 2021 cycle will be open starting in July, 2020.
Find the Right Award for Your Research
Learn more about funding your future in hepatology. [PDF]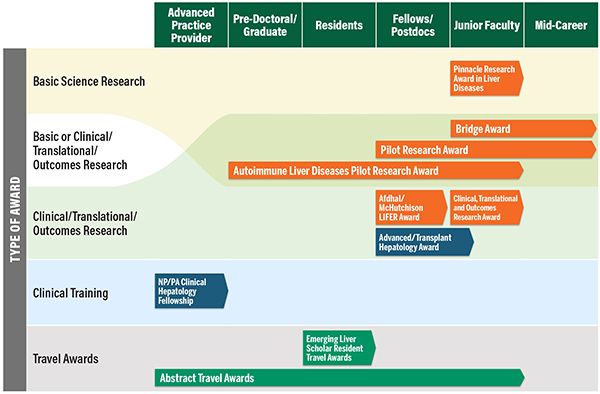 Special Funding Announcement: Autoimmune Liver Diseases
Autoimmune Liver Diseases Pilot Research Award
The Autoimmune Liver Diseases Pilot Research Award was established to support the next breakthrough in Autoimmune Liver Diseases by supporting highly innovative projects in their earliest stages. This award provides supplementary funding during the pilot phase of basic, translational or clinical research projects in autoimmune liver disease. Learn more about the Autoimmune Liver Diseases Pilot Research Award [PDF] ($20,000/1Year).
Gupta Family Research Award for PSC
This fund supports one highly meritorious application in PSC research [PDF] submitted to the Pilot Research Award.
Details on 2021 Special Funding opportunities will be posted in July 2020.
Travel Awards
Questions
Questions? Contact awards@aasld.org.