THE IMPACT OF YOUR GIFTS
Since 2000, your gifts have funded more than $57 million* in transformational programs and research. This funding has had a significant impact on the careers of researchers and health care providers who study and treat liver disease.
It has pushed the boundaries of what's possible in the world of liver disease research and care.
2022 BY THE NUMBERS
With support from generous donors, AASLD Foundation proudly invests in innovative hepatology research and in the people who study and treat liver diseases.
In 2022, the Foundation funded $1.5 million dollars in awards aimed at basic, clinical and translational researchers from student to mid-career, as well as frontline providers who want to pursue advanced clinical training in hepatology.
We are very happy to report we invest in the right people:
 

FUNDING THE FUTURE OF HEPATOLOGY
At the core of our work are the talented researchers and clinicians who work tirelessly to find better treatments and more cures for liver diseases. 
In 2022, we funded 149 researchers and early-career professionals who have committed themselves to hepatology. These AASLD Foundation-funded researchers are investigating critical areas of liver disease, such as: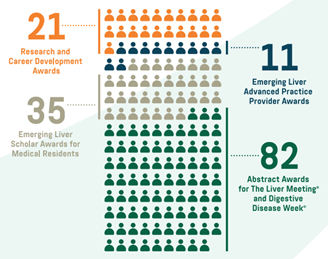 Adult and Pediatric Liver Cancer

Alcoholic Liver Disease

Autoimmune Liver Diseases

Cirrhosis

Hepatorenal Syndrome

NAFLD/NASH

Palliative Care

Socioeconomic Health Disparities

Inherited and Genetic Liver Diseases
Read more about our researchers and learn more about our funding programs.
BUILDING LEADERS AT EVERY LEVEL

One of our best opportunities in finding tomorrow's cures lies in the hands of the next generation of hepatology researchers and clinicians. Through our Emerging Liver Scholars Program, we began nurturing the interest in – and ability to have – a career in hepatology right as the best and brightest enter residency.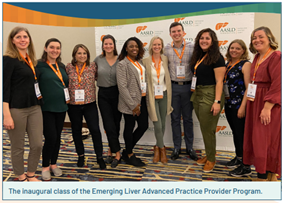 New in 2022, we celebrated the inaugural class of the Emerging Liver Advanced Practice Provider (APP) Program. This program brings early career advanced practice providers (APPs) to the premiere scientific meeting in hepatology and advances their knowledge of liver diseases through educational programming, professional development activities led by leaders in the field, and networking with hepatology key opinion leaders and peers from around the globe.
RECOGNIZING RESEARCH EXCELLENCE
Our Abstract Awards recognize outstanding research undertaken by early career investigators. These awards provide support for researchers to attend and present their work to an international audience at The Liver Meeting® and Digestive Disease Week®.
MEET OUR AWARDEES
AASLD Foundation award recipients — selected from a highly competitive applicant pool — demonstrate both exceptional aptitude and deep interest in liver disease research and treatment. Their work will further advance the mission of the Foundation and hepatology as a medical specialty.
Our awards:
Increase access to trained hepatology providers for patients with liver disease

Provide critical funding for new and innovative liver research

Encourage early career investigators new to the field

Recognize scientific excellence in hepatology research
Meet the latest class of AASLD Foundation Awardees.
Contact the Foundation if you are interested in learning more about the impact of your donations.
* AASLD and AASLD Foundation funding since 2000