AASLD Foundation Is Participating In the 2020 Combined Federal Campaign
In this challenging year, the steadfastness of the federal community has been awe-inspiring. You have continued to fulfill your professional responsibilities and keep our country moving. We are grateful to you.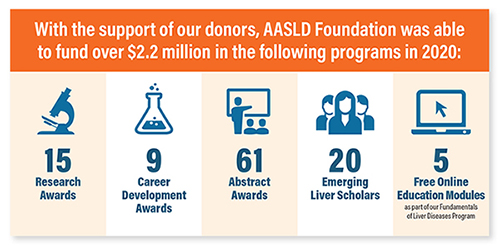 Despite this year's significantly challenging socioeconomic climate, we have also continued our vital role as a catalyst for scientific discovery and a champion of better liver health. In 2020, we funded over $2.2 million in Research and Career Development Awards, Abstract Awards, and our Emerging Liver Scholars Program. Essential resources like new and updated NASH educational content in Fundamentals of Liver Disease, as well as a growing library of patient resources helped to equip non-hepatologist providers to care for liver disease patients and to provide patients a better understanding of liver disease.
Your CFC pledge can bring us closer to a world without liver disease
In a year when many organizations have experienced dramatic reductions in initiatives, our donors demonstrated the depths of their commitment as they rallied to provide additional funding resources. This investment translates into vital research that informs favorable patient outcomes, bringing us closer to our vision of preventing and curing liver disease.
Even with the help of our dedicated donors, the need is greater than ever. This year alone, we faced a gap of over $4 million to fully fund meritorious research and career development projects. As federal employees, you represent a powerful, caring community through the Combined Federal Campaign (CFC). Together, the CFC Community can make a difference and help to close the gap by pledging support to our mission.
Show some love to CFC #75219
Are you an active or retired federal employee or member of our military? If so, you probably know about the power of CFC giving. @CFC is the largest workplace giving campaign in the world. It raises millions of dollars annually for charitable causes that find cures for diseases, support military families, promote equality for all, and make a positive difference in our world.
Support Now (Be sure to choose CFC #75219)
You can make an even bigger impact
If you are already a CFC donor, consider increasing your pledge this year
Help spread the word – Tweet about your pledge to @AASLDFoundation. Include @CFC and #ShowSomeLoveCFC
Submit your selfie to CFC's Be the Face of Change
We know that when Federal employees combine their efforts, there is no limit to what they can achieve. There's no better time to Show Some Love to AASLD Foundation CFC #75219.
For more information, contact us at foundation@aasld.org or 703-740-9394.
The AASLD Foundation is tax-exempt under §501(c)(3) of the Internal Revenue Code. Contributions made to the AASLD Foundation are charitable contributions deductible to the extent permitted by §170 of the Internal Revenue Code. We recommend you consult your tax advisor for details.