Year in Review
AASLD Foundation 2021 Year in Review
This is why the future of hepatology starts here.
AASLD Foundation is funding the future of hepatology by providing mentorship, education, career development and most importantly awards to support a growing need in healthcare. Through the generosity of donors, the Foundation and AASLD have funded $55 million in research and career development awards since 2000.
While great strides have been made in liver disease research and care, with aging populations and longer life spans, the demand for liver disease specialists is expected to increase.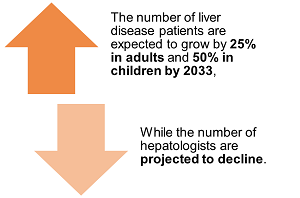 Findings from the AASLD 2018 Workforce Study Report identified 8,380,400 adult and 1,833,000 pediatric liver disease patients.
According to the report, the U.S. population's projected growth to 380 million by 2040 and the aging of the American

population is indisputably boosting the demand for hepatology services, as well as

contributing to a lack of health care professionals.

Between 2000 and 2030, the number of people in the U.S. over the age of 65 is expected to double.
How then can we meet this critical demand?
Source: MW Russo, OK Fix, AA Koteish, K Duggan, M Ditmyer, M Fuchs, RT Chung, G Reddy. Modeling the Hepatology Workforce in the United States: A Predicted Critical Shortage. HEPATOLOGY 2020; Special Article
We are dedicated to bringing greater focus and resources to programs that will improve outcomes for patients with liver disease. Each year the Foundation invests more money in pioneering liver disease research and training than any other medical association foundation in the U.S.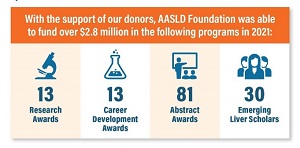 In 2021, we funded 137 researchers and early career professionals who have committed themselves to hepatology.
These AASLD Foundation-funded researchers are investigating critical areas of liver disease, such as:  
Adult and Pediatric Liver Cancer

Alcoholic Liver Disease

Autoimmune Liver Diseases

Cirrhosis

Hepatorenal Syndrome

NAFLD/NASH

Palliative Care

Socioeconomic Health Disparities
These studies and the people who are leading them could reduce the impact of liver diseases and improve the lives of patients.
Foundation funded research is regularly published in high-impact medical journals and peer reviewed publications including

Hepatology

, Liver Transplantation and other AASLD journals, New England Journal of Medicine, Cell, Nature Communications and many more.

42% of past recipients have gone on to receive additional funding

for their projects from sources like the NIH, pharmaceutical industry and other private foundations.

Recipients have presented their Foundation-funded research at major scientific meeting around the globe, including The Liver Meeting®, Digestive Disease Week, International Liver Congress and others.
Research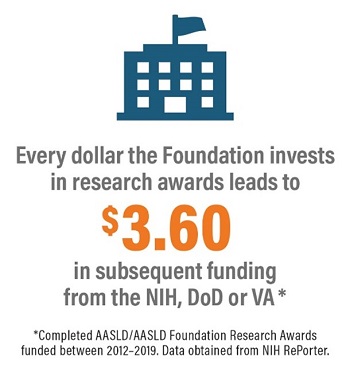 Our Research Awards program provides investigators with a clear path for funding each stage of their careers. Each year we fund basic, clinical, translational and outcomes-related projects aimed to advance understanding of the causes of liver disease, stimulate discovery of new treatment options and explore models of innovative care for people living with liver disease.
Career Development
Our Career Development Awards answer the demand for trained specialists equipped to treat the complexities of liver disease. Our programs support clinicians pursuing dedicated training in hepatology.
 Abstract Awards
The Foundation's Abstract Awards provide funding to support dissemination of high-impact studies at major global scientific meetings and recognize excellence in research undertaken by early career investigators.
Resident Scholarships
The Emerging Liver Scholars program drives the pipeline of future hepatology health professionals by providing medical, surgical and pediatric residents the opportunity to explore hepatology as a career through educational and professional development programming.
2021 Foundation awardees are committed to improving lives of patients with liver disease. Here are a few of our 2021 grant recipients.
Dr. Renee Cottle
 2021 AASLD Foundation Pinnacle Research Awardee
Research Project: Nonviral Delivery of Crispr-Cas9 into Hepatocytes for Liver Repopulation Using Acetaminophen Selection
My future goals are to advance technologies from my lab to clinical trials to improve the lives of patients with inherited metabolic diseases affecting the liver and continue training the next generation of biomedical researchers.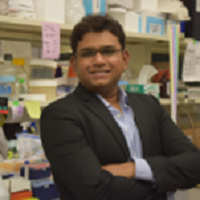 Dr. Prashanth Thevkar Nagesh
2021 AASLD Foundation Afdhal/McHutchison LIFER Awardee
Research Project: Role of BTK signalosome in alcoholic liver disease
My long-term research interests involve the development of a comprehensive understanding of key immune pathways and how alterations these pathways contribute to inflammatory disease.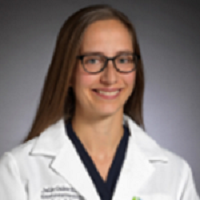 Dr. Julie Osborn
2021 AASLD Foundation Advanced/Transplant Hepatology Awardee
Fellowship Institution: Cincinnati Children's Hospital Medical Center
My goal is to become an independent academic investigator and quality improvement leader in pediatric hepatology with a focus on improving outcomes post liver transplantation by addressing barriers to medication adherence, quality of life and transitioning of care in young adults.
Though the pandemic changed the way our organization functions, due to our generous supporters, our commitment to advancing liver disease research and training has not wavered. The generosity of our supporters is integral to our mission. Without the invaluable contributions from members of the AASLD, the patient community and our Corporate Supporters, we could not spearhead the effort to end liver disease.
In 2021 we saw a significant increase in the number of donors investing in the mission of the Foundation. Thank you to the 613 AASLD member donors and 544 Community Donors – everyone whose support is vital to Foundation Awards program.