Role of BTK Signalosome in Alcoholic Liver Disease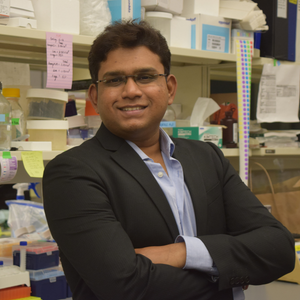 Grantee:                       Prashanth Thevkar, PhD
Institution:                 Beth Israel Deaconess Medical Center
Grant Program:        Afdhal/McHutchison LIFER Award
Project Term:             July 2021 – June 2023 (Active)
Area of Focus:            Alcohol-Associated Liver Disease
Project Description:
Alcoholic liver disease (ALD) is a major cause of liver-related morbidity and mortality in the US. Alcoholic hepatitis (AH) is a life-threatening form of ALD. Severe AH is associated with a mortality exceeding 30% at 3 months. Despite its obvious public health and economic burden, there is a remarkable paucity of effective therapeutics for severe AH. 
Corticosteroids have been the mainstay of therapy for AH, but only provide survival benefits at 28 days and actually increase the susceptibility to severe infections. Of the several proinflammatory molecules which enhance inflammation, Bruton's tyrosine kinase (BTK) has been demonstrated to play a major role in promoting inflammation in several chronic inflammatory disease states. Most intestinally, BTK is a druggable target and using BTK inhibitor reduced inflammation in mice and humans. While using an FDA approved BTK inhibitor is known to downplay inflammation, its role in ALD has not been studied.
The funded project is intended to evaluate the role of BTK inhibitor in alleviating ALD. The outcome of this study will help us to assess the effectives of the BTK inhibitor in preclinical models, and potentially extend future studies in clinical settings. Repurposing the use of an existing FDA approved drug in treating ALD will benefit the patients in a timely manner, if proven effective.
About the Grantee:
My academic training and research experience have provided me with an excellent background in immunology, molecular biology, microbiology, biochemistry, cardiovascular biology and metabolic disease. I have a broad background in virology, immunology, liver, cardiovascular and metabolic research. The training plan has been tailored to my current experience level and will certainly improve my research skills in alcohol associated liver pathophysiology, inflammation, immune cell trafficking, all essential for my further career development. The proposed research will provide me with new conceptual and technical training in adopting therapeutic strategies to attenuate liver inflammation.  My long-term research interests involve the development of a comprehensive understanding of key immune pathways and how alterations these pathways contribute to inflammatory disease. In addition, the proposed training plan outlines a set of career development activities and workshops - e.g. grant writing, public speaking, lab management, and mentoring students - designed to enhance my ability to be an independent investigator.
Grantee ORCID Record:
More Information*:
AASLD's Patient Guidelines for Alcohol-Associated Liver Disease.
NIAAA Rethinking Drinking: Alcohol and Your Health
NIAAA Alcohol Treatment Navigator
NIAAA Alcohol's Effects on Health
*Resources are provided for information purposes only and inclusion does not imply AASLD Foundation endorsement or recommendation.
Page last updated January 2023