Repertoire Analysis of Human AMA in Primary Biliary Cholangitis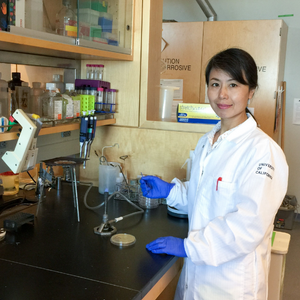 Grantee:                       Weici Zhang, PhD
Institution:                 University of California, Davis
Grant Program:        Pinnacle Research Award in Liver Disease
Project Term:             July 2017 – December 2020 (Completed)
Area of Focus:            Autoimmune Liver Diseases
Project Outcomes Summary:
Abnormal B-cell function contributes to the pathogenesis of primary biliary cholangitis (PBC). We have successfully applied the state-of-the-art technology and extensively studies this important cellular component of immune system, B lymphocytes. Our studies have identified B-cell abnormality and associated signature genes. Unlike the typical memory B cells which produce antibodies in response to antigens with T cell help, abnormal B cell accumulated in PBC patients are distinguished by lack of cell surface marker CD27 and IgD, produce high level of IgM and likely fulfill functions without T cell help. Importantly, this population exists in inflamed liver and produce AMA. The signature gene of disease-specific B cells identified in this study could be a potential target for assessing disease risk, monitoring and developing therapeutic approaches
Selected Publications:
Glycomic Analysis of Antibody Indicates Distinctive Glycosylation Profile in Patients With Autoimmune Cholangitis
Zhou X, Kailemia MJ, Sun Y, et al.
J Autoimmun. 2020;113:102503. doi:10.1016/j.jaut.2020.102503
Personal Impact:
"I am deeply grateful for the support of AASLD Foundation and the generous donors. This award has provided a unique opportunity to perform cutting-edge work that should be considered to be a breakthrough in PBC. It emphasizes the increasing critical roles of B cells in autoimmunity and in PBC. I am preparing a scientific manuscript and an RO1 application. I should also emphasize that our data has direct therapeutic application and we expect to argue that the therapy of PBC should include reagents directed at B cells and likely the concurrent usage of anti-BAFF followed by anti-CD20 in order to capture both memory and effector B cells."
About the Grantee:
I have extensive experience in immunology, molecular biology and cell biology, with emphasis on the molecular basis of autoimmunity. I made the decision in 2007, after receiving my Ph.D., that my career would be best advanced in the United States and I moved to become a post-doctoral fellow with Dr. Gershwin. It has been an exciting time and I am now an Assistant Professor and my goal is to remain in academic medicine and continue my focus on liver autoimmunity. I enjoy teaching. I love bench research and I want a career in an American University. Taking advantage of available clinical samples (blood and tissues) and various animal models, I have successfully applied immunological and molecular biological approaches to study several aspects of autoimmune liver diseases. I have been working on dissecting the role of T cell, B cell, monocytes/macrophages in autoimmune disease at various aspects from single-cell Ig repertoire analysis to epigenetic reprogramming and post-translational modification. Importantly, I have recently been engaged in extensive immunoglobulin glycosylation studies in autoimmune liver disease including PBC and PSC, to elucidate the overall profile, composition and linkage of the sugar residues of plasma immunoglobulin glycans. I have published more than 50 peer-reviewed publications including 10 research articles as a first-author, 3 research articles as a corresponding author. It is my goal that this work, supported by this pilot research award, will allow me to be competitive for NIH long-term funding and explore research interests independently. 
Grantee ORCID Record:
https://orcid.org/0000-0002-3193-6851
More Information*:
AASLD's Patient Guidelines for Primary Biliary Cholangitis (PBC)
*Resources are provided for information purposes only and inclusion does not imply AASLD Foundation endorsement or recommendation.
Page last updated January 2023