Intestinal Stem-Cell Proliferation and Differentiation in Alcoholic Liver Disease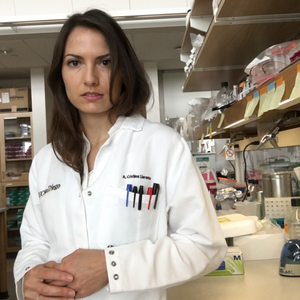 Grantee:                        Cristina Llorente, PhD
Institution:                  University of California, San Diego
Grant Program:         Pinnacle Research Award in Liver Diseases
Project Term:             July 2018 – June 2021 (Completed)
Area of Focus:            Alcohol-Associated Liver Disease
Project Description:
My research focuses on the role of intestinal stem cells, their proliferation and differentiation into various intestinal cells for the development of alcoholic liver disease. 18 million people in the United States are affected by alcohol abuse and chronic alcoholism. Alcohol has been reported to account for 85,000 deaths per year in the USA and 5.9% of all global deaths. Alcoholic liver disease can progress from steatosis to steatohepatitis, liver fibrosis and in 15-40% of cases to cirrhosis. Patients with alcoholic liver disease have a high mortality due to bacterial infections. Microbiota disturbances and translocation of bacteria to the onset and progression of alcoholic liver disease, however, the exact mechanism of how they contribute to disease remains to be fully characterized. By utilizing state-of-the-art methodology and technologies, we propose to study pathways in intestinal epithelial cells that contribute to translocation of viable bacteria. With this award, we will assess a novel mechanism maintaining a healthy gastrointestinal barrier under chronic ethanol abuse. The pinnacle of this award is to revert alcoholic liver disease by modulating intestinal stem cells. These efforts will allow deciphering therapeutic targets of relevance for human health.
Project Outcomes Summary:
Goblet cell are important regulator of ethanol induced liver disease in mice
The gut-liver axis plays an important role in alcohol-related liver disease (ALD) pathogenesis. The intestinal immune system and a healthy intestinal epithelial barrier interact and regulate a balanced microbiome. These interactions are altered during ALD suggesting a role in ALD pathogenesis. To test this hypothesis and elucidate the underlying mechanisms we investigated how chronic alcohol exposure affects intestinal proliferation, differentiation, the immune system, and bacterial translocation to the liver.
WT female mice were subjected to the chronic ethanol feeding model for 10 weeks. We found that chronic alcohol use inhibits proliferation of intestinal epithelial cells but increases differentiation of intestinal goblet cell and increases mucin production in mice. This, however, comes with the expense of goblet cell associated antigen passages (GAPs) closure.
GAPs control the delivery of luminal antigens and bacteria to the lamina propria immune system. Therefore, ethanol abuse alters the immune response though promoting inhibition of GAPs.
We now show that GAPs are controlled by intestinal IL-6 signal transducer (IL6ST/gp130). Although mice that express constitutively active gp130 in intestinal epithelial cells (IEC; gp130Act/IEC mice) have fewer goblet cells, they are ALD resistant due to increased GAP formation, which enhances the generation of intestinal tolerance and production of increased antibacterial defense preventing bacterial overgrowth and translocation to the liver preventing ethanol-induced liver disease.
Therefore, GAP induction could be a promising strategy for enhancing intestinal immune tolerance and interception in ALD and other diseases linked to uncontrolled microbial translocation.
Pharmacological manipulation of GAPs could be a potential approach for preventing not only ALD progression. Targeted delivery of intestinal gp130 agonists to goblet cells and regulators of GAP opening might be developed as a therapeutic agent for alcohol-related liver disease.
Selected Publications:
Deficiency of Intestinal α1-2-Fucosylation Exacerbates Ethanol-Induced Liver Disease in Mice
Zhou R, Llorente C, Cao J, et al.
Alcohol Clin Exp Res. 2020;44(9):1842-1851. doi:10.1111/acer.14405
A Perspective of Intestinal Immune-Microbiome Interactions in Alcohol-Associated Liver Disease
Bruellman R, Llorente C.
 Int J Biol Sci. 2021;17(1):307-327. Published 2021 Jan 1. doi:10.7150/ijbs.53589
Intestinal α1-2-Fucosylation Contributes to Obesity and Steatohepatitis in Mice
Zhou R, Llorente C, Cao J, et al.
Cell Mol Gastroenterol Hepatol. 2021;12(1):293-320. doi:10.1016/j.jcmgh.2021.02.009
Colesevelam Reduces Ethanol-Induced Liver Steatosis in Humanized Gnotobiotic Mice
Cabré N, Duan Y, Llorente C, et al.
Cells. 2021;10(6):1496. Published 2021 Jun 14. doi:10.3390/cells10061496
CRIg on liver macrophages clears pathobionts and protects against alcoholic liver disease
Duan Y, Chu H, Brandl K, et al.
Nat Commun. 2021;12(1):7172. Published 2021 Dec 9. doi:10.1038/s41467-021-27385-3
Subsequent Funding:
NIH/NIAAA
Goblet cells and intestinal immune response in alcohol-associated liver disease
Role: PI
Personal Impact:
"This award has allowed my lab to decipher a novel mechanism for prevention of ethanol-induced liver disease by maintaining a tolerant gastrointestinal barrier and pursuing my dream career goal of becoming a successful independent investigator in academia. The AASLD Foundation Pinnacle Research Award has allowed me to transition to an Assistant Professor facilitating my career transition toward an independent investigator."
About the Grantee:
Dr. Llorente is an Assistant Professor of Medicine in the Department of Medicine, School of Medicine at UC San Diego. Dr. Llorente graduated in Biochemistry from Complutense University of Madrid. As a predoctoral fellow, Dr. Llorente received a Master graduate in Molecular Biomedicine and a PhD in the program of Biochemistry, Molecular Biology and Biomedicine at Autonomous University of Madrid with main focus in chronic liver disease, hepatitis, fibrosis, and hepatocarcinogenesis.
Dr. Llorente attained a fellowship to perform an internship at Dr. Olefsky's laboratory at UC San Diego where she studied the pathogenesis of diabetes and obesity. She was recruited to Dr. Bernd Schnabl's laboratory as a Postdoctoral Scholar at UC San Diego. As postdoctoral fellow, her focus has been to understand the influence of microbiota in liver diseases.
Changes in intestinal microbiota related to ethanol and bacterial translocation play an important role in the development of alcoholic liver disease. Dr. Llorente's studies demonstrated that gastric acid suppression induces overgrowth of intestinal Enterococcus and its translocation to the liver. This work defines the molecular mechanism of disease caused by Enterococcus, its contribution to ethanol-induced liver inflammation and hepatocyte damage in mice and humans. Her efforts yielded a first-author manuscript published recently in Nature Communications.  
Her ultimate goal is to build a research program dedicated to mechanistically understanding the role of host-microbiota interactions in modulating inflammation, the immune system, and intestinal homeostasis seeking to clarify the underlying molecular mechanisms contributing to the onset and progression of liver disease. Dr. Llorente's efforts in microbiome research are of great significance in developing next generation therapies such as novel prebiotics, probiotics and microbial metabolites targeted to alleviating the development of liver disease.
Grantee ORCID Record:
More Information*:
AASLD's Patient Guidelines for Alcohol-Associated Liver Disease.
NIAAA Rethinking Drinking: Alcohol and Your Health
NIAAA Alcohol Treatment Navigator
NIAAA Alcohol's Effects on Health
*Resources are provided for information purposes only and inclusion does not imply AASLD Foundation endorsement or recommendation.
Page last updated January 2023