Contribution of Microbiome in Environmental Agent Trichloroethylene-Mediated Autoimmune Hepatitis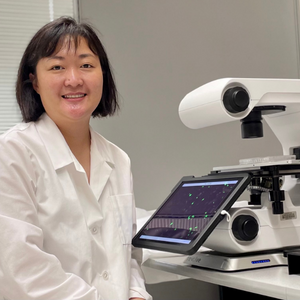 Grantee:                       Hui Wang, PhD
Institution:                 The University of Texas Medical Branch at Galveston
Grant Program:        Autoimmune Liver Diseases Exploratory Research Award
Project Term:             July 2021 - June 2022 (Completed)
Area of Focus:            Autoimmune Liver Diseases
Project Description:
In this project, I will investigate the role of gut microbiome in environmental pollutant trichloroethylene-mediated autoimmune hepatitis (AIH). AIH occurs worldwide with rising prevalence rate and it is a chronic disease in which the body's own immune system, attacking the liver and causing inflammation. If untreated, this can lead to cirrhosis and liver failure. Both host's genetic susceptibility and environmental factors (external chemical or infectious triggers) can induce loss of self-tolerance and subsequently the development of the disease.
My research project is intended to evaluate the intestinal microbiome dysbiosis and leaky gut, which facilitates bacterial translocation to liver, and contributing to hepatic inflammation, leading to AIH. We seek to understand 1) whether TCE exposure alters the gut microbiome compositions using 16S rRNA sequencing, and if these changes contribute to autoimmune responses by fecal microbiome transplantation from TCE-exposed mice to germ-free mice; 2) the contribution of host mucosal oxidative stress, immune activation and intestinal integrity to TCE-mediated AIH. Successful completion of our aims will establish a causal role of gut microbiome dysbiosis in TCE-mediated AIH and delineate novel mechanisms as well as therapeutic targets of AIH.
Project Outcomes Summary:
Trichloroethene (TCE) is a common environmental contaminant and found in up to 34% of the U.S. drinking water. Inflammatory autoimmune disorders, including autoimmune hepatitis (AIH) and systemic lupus erythematosus (SLE), are reported from both environmental and occupational exposure to TCE. Changes in our gut bacterial community are thought to play an important role in autoimmune diseases including AIH and SLE. Scientific studies have shown that people with AIH have obvious differences in their gut microbiomes compared to healthy individuals. Gut bacteria not only help you digest food, providing essential vitamins and nutrients, but also control your immune system.
We have observed altered microbial compositions after chronic TCE exposure in MRL+/+ mice, suggesting that chemical contamination in water could be a potential risk factor in breaking immune balance and causing autoimmune response. Our data also revealed altered microbials lead to systemic inflammation and autoimmune response by increasing intestinal permeability (leaky gut) and mucosal immunity. Studies have indicated that translocation of bacteria and their metabolites would generate systemic effects. Our study also investigated the bacterial metabolites by whole genome shotgun sequencing, which enables an overview and comparison of metagenomic data at a functional gene level (data not published). More importantly, we confirmed that the gut microbiome from the mice drinking TCE water (donor mice) can induced autoimmune responses in healthy recipient mice. Our study helps explain how the environmental exposure can contribute to systemic inflammation and autoimmune response by reshaping gut microbiomes in autoimmune prone animal models.
Selected Publications:
Gut Microbiome-Host Interactions in Driving Environmental Pollutant Trichloroethene-Mediated Autoimmunity
Wang H, Banerjee N, Liang Y, Wang G, Hoffman KL, Khan MF
Toxicol Appl Pharmacol. 2021;424:115597. doi:10.1016/j.taap.2021.115597
About the Grantee:
I have a strong background in gut pathophysiology and have been working on autoimmune diseases for several years. During my Ph.D. training, I investigated the impact of dietary factors on intestinal inflammation, gut permeability and microflora composition by conducting both in vivo and in vitro studies. During my postdoctoral work, I expanded my research expertise by conducting immunology- and pharmacology-related studies. I am well-trained in immunology and cell signaling-related studies. I have been working on molecular mechanisms of environmental agent trichloroethylene (TCE)-mediated autoimmune diseases in the current lab and became interested in exploring the contribution of environmental factors in the pathogenesis of autoimmune diseases. The mechanistic approaches in this project will help me gain knowledge that would be directly applicable to the development of new therapeutic targets in autoimmune diseases, especially autoimmune hepatitis. This award will certainly enhance my career goal of becoming an independent scientist.
Grantee ORCID Record:
https://orcid.org/0000-0002-1708-6790
More Information*:
AASLD's Patient Guidelines for Autoimmune Hepatitis
NIDDK Autoimmune Hepatitis Health Information
*Resources are provided for information purposes only and inclusion does not imply AASLD Foundation endorsement or recommendation.
Page last updated January 2023